Staff
Dentist in Uxbridge, MA
All our professionals at Uxbridge Dental Center maintain the highest levels of accreditation and pursue ongoing education to stay abreast of the latest trends in dentistry.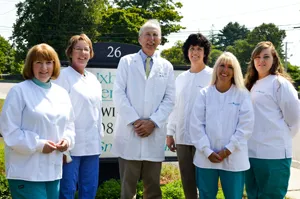 Dr. Edward Swiderski
Dr. Swiderski is a 1980 graduate of Georgetown University School of Dentistry. He established the Uxbridge Dental Center in July 1980, bringing the latest in dental care and technology to the area. Dr. Ed is a Fellow in the Academy of General Dentistry, providing a strong background in Preventive and Restorative Dentistry.
His goal for his patients is to maximize their oral health, thus helping all patients from 1 to 90, keep their teeth and smile again.
Along with caring for his patients, Dr. Swiderski has been an active member in the Worcester District Dental Society, serving as Chairmen in 1997 - 1998 and Trustee to the Massachusetts Dental Society from 2008 - 2013. He is also active in the state and national level currently serving as immediate past President of the Massachusetts Dental Society as well as a delegate to the American Dental Association.
His participation in organized dentistry supports his concern for patient related issues in the oral health field.
---

Linda Chaplin R.D.H.
Linda Chaplin, RDH has been a practicing dental hygienist since 1986 and an essential part of the Uxbridge Dental Center team since 1990, providing compassionate oral health care to patients. Linda's philosophy on providing the best for her patients is "If we have a positive impact towards our patients' quality of life, then we've done our job – after all oral health is part of overall health." Linda's personal rapport with her patients insures preventive care in a relaxed atmosphere.
---

Nancy Crowley R.D.H.
Nancy Crowley R.D.H. has been offering hygiene expertise and skill to our patients since 1989. If you hear laughter when you walk through our doors it is probably coming from Nancy's room. She has a remarkable gift of entertaining her patients while taking care of their hygiene and periodontal needs. "It has been fun getting to know my patients and their families over the years." Everyone leaves appointments with Nancy with more than clean teeth and healthy gums. They leave with a smile.
---

Mary Greiner
Mary Greiner has been our Administrative Assistant since 1988. Being at the front desk offers her the opportunity to enjoy her role as a patient advocate. Whether she is answering questions on the phone, scheduling appointments, welcoming patients as they arrive or working with patients to determine ways to afford the quality dentistry they deserve – you will find Mary striving to make your dental visit a pleasant experience.
---