Posts for: November, 2017
By Uxbridge Dental Center
November 29, 2017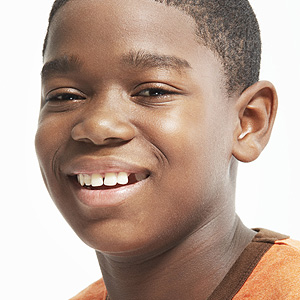 While it's possible for a teenager to lose a tooth from decay, it's more common they'll lose one from an accidental knockout. If that happens to your teenager, there are some things you should know to achieve a good outcome.
Our top concern is to preserve the underlying bone following tooth loss. Like other tissues, bone has a life cycle: older cells dissolve and are absorbed by the body (resorption), then replaced by new cells. The biting pressure generated when we chew helps stimulate this growth. But bone around a missing tooth lacks this stimulation and may not keep up with resorption at a healthy rate.
This can cause a person to lose some of the bone around an empty tooth socket. To counteract this, we may place a material at the site. Made of bone minerals, usually from a donor, the graft serves as a scaffold for new bone growth. By preventing significant bone loss we can better ensure success with a future restoration.
Because of its lifelikeness, functionality and durability, dental implants are considered the best of the restoration options that can be considered to replace a missing tooth. But placing an implant during the teen years is problematic because the jaws are still growing. If we place an implant prematurely it will appear to be out of alignment when the jaw fully matures. Better to wait until the jaw finishes development in early adulthood.
In the meantime, there are a couple of temporary options that work well for teens: a removable partial denture (RFP) or a fixed modified bridge. The latter is similar to bridges made for adults, but uses tabs of dental material that bond a prosthetic (false) tooth to the adjacent natural teeth to hold it in place. This alleviates the need to permanently alter the adjacent natural teeth and buy time so that the implant can be placed after growth and development has finished.
And no need to worry about postponing orthodontic treatment in the event of a tooth loss. In most cases we can go ahead with treatment, and may even be able to incorporate a prosthetic tooth into the braces or clear aligners.
It's always unfortunate to lose a tooth, especially from a sudden accident. The good news, though, is that with proper care and attention we can restore your teenager's smile.
If you would like more information on how to treat lost teeth in teenagers, please contact us or schedule an appointment for a consultation. You can also learn more about this topic by reading the Dear Doctor magazine article "Dental Implants for Teenagers."
By Uxbridge Dental Center
November 14, 2017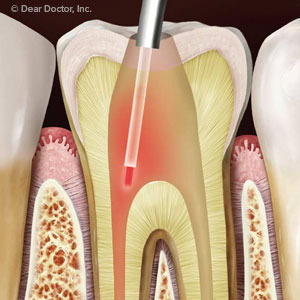 As in other parts of medicine, lasers are beginning to change the way we provide dental care. More and more dentists are using lasers to make earlier diagnoses of dental disease or provide surgical treatment. One area prime for change is the treatment of teeth with deep decay and in danger of being lost.
For decades now, the best way to save teeth in this condition is with root canal treatment. In this common procedure we access the pulp, remove the infected tissue with specialized hand instruments, and then fill and seal the pulp chamber and root canals with a special filling.
We can now potentially improve the efficiency and increase the success rate of this treatment with laser technology. With their focused light, lasers emit a concentrated burst of energy that's extremely precise. In many instances laser energy can remove the target diseased tissue without damaging nearby healthy tissue.
In this form of root canal treatment, we use lasers to remove tissue and organic debris within the pulp and then shape the root canal walls to better receive the filling. We can also utilize the heat from laser energy to soften and mold the filling, so that it better conforms within the walls of the root canals.
Using lasers in root canal treatments may require less local anesthesia than the traditional approach and also eliminates disturbing or discomforting sounds and vibrations. Dentists who've used the new technology also report less bleeding during the procedure and less pain and occurrences of infection afterwards.
But there are a couple of disadvantages for using lasers in root canal treatment. For one, light travels in a straight line — and many root canal networks are anything but straight. More complex root canal networks may still require the traditional approach. Laser energy could also increase the tooth's inner temperature, which could potentially damage tissues even on the tooth's outer surfaces.
Used in the right circumstances, though, lasers can be an effective means to treat diseased teeth. Â As laser technology continues to advance and becomes a mainstay in dental care, you may soon find it part of your next dental procedure.
If you would like more information on root canal treatments, please contact us or schedule an appointment for a consultation.