Posts for: March, 2015
By Uxbridge Dental Center
March 16, 2015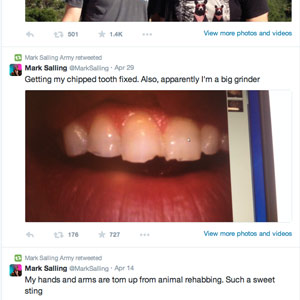 Sure, it's big news when celebs tweet selfies from the dental office… if you're still living in the 20th century. But in Hollywood today, it's harder to say who hasn't posted snaps of themselves in the dentist's chair than who has. Yet the pictures recently uploaded to Twitter by Mark Salling, the actor and singer who regularly appears as Noah "Puck" Puckerman on the popular TV series Glee, made us sit up and take notice.
"Getting my chipped tooth fixed. Also, apparently, I'm a big grinder," read the caption. The photo showed a set of upper front teeth with visible chips on the biting surface. What's so special about this seemingly mundane tweet? It's a great way of bringing attention to a relatively common, but often overlooked problem: teeth clenching and grinding, also called bruxism.
Although bruxism is a habit that affects scores of people, many don't even realize they have it. That's because the condition may only become active at night. When the teeth are unconsciously ground together, the forces they produce can wear down the enamel, cause chipping or damage to teeth or dental work (such as veneers or fillings), or even loosen a tooth! While it's common in children under 11 years old, in adults it can be a cause for concern.
Sometimes, mouth pain, soreness and visible damage alert individuals to their grinding habits; other times, a dental professional will notice the evidence of bruxism during an exam or cleaning: tooth sensitivity and telltale wear and tear on the chewing surfaces. Either way, it's time to act.
Bruxism is most often caused by stress, which can negatively impact the body in many ways. It may also result from bite problems, the overuse of stimulating substances (caffeine, alcohol, tobacco, and illegal drugs), and as a side effect of certain medications. Sometimes, simply becoming aware of the habit can help a person get it under control. Common methods of stress reduction include exercise, meditation, a warm bath or a quiet period before bedtime; these can be tried while we monitor the situation to see if the problem is going away.
If stress reduction alone doesn't do the trick, several other methods can be effective. When bruxism is caused by a minor bite problem, we can sometimes do a minor "bite adjustment" in the office. This involves removing a tiny bit of enamel from an individual tooth that is out of position, bringing it in line with the others. If it's a more serious malocclusion, orthodontic appliances or other procedures may be recommended.
When grinding is severe enough to damage teeth or dental work, we may also recommend a custom-made night guard (occlusal guard), which you put in your mouth at bedtime. Comfortable and secure, this appliance prevents your teeth from being damaged by contacting each other, and protects your jaw joints from stresses due to excessive grinding forces.
Whether or not you have to smile for a living, teeth grinding can be a big problem. If you would like more information about this condition, call our office to schedule a consultation for a consultation.
By Uxbridge Dental Center
March 06, 2015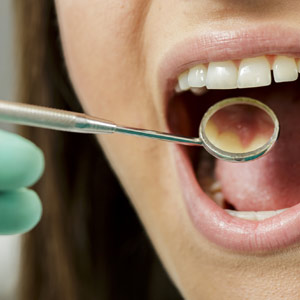 Most everyone knows that going to see your dentist for regular checkups and cleanings can help save your smile — but did you ever stop to think that it just might save your life?
That's what recently happened to 11-year-old Journee Woodard of Edmond, Oklahoma. The young girl was having a routine teeth cleaning when hygienist Rachel Stroble noticed something unusual: The whites of her eyes (her sclera) had a distinctly yellow tint. Dr. Michael Chandler, Journee's dentist, confirmed the hygienist's suspicions, and advised her mom to take her for further testing. The tests revealed that Journee had a tumor covering parts of her pancreas, gallbladder and liver; it could have ruptured at any moment, with devastating consequences.
The tumor was removed three days later in a 9-hour operation, and Journee is now recovering. As for her dentist, Dr. Chandler told reporters that he and his staff were just doing their jobs thoroughly. "It's hard to feel like I'm a hero," he said (though others might disagree).
Is this a one-in-a-million case? Maybe — yet for many people, a family dentist may be the health care professional who is seen more often than any other. That can put dentists in the unique position of being able to closely monitor not only a person's oral health, but also their overall health.
There are several reasons why that's so. One is that most systemic diseases (such as diabetes, leukemia, and heart disease, for example) can have oral manifestations — that is, symptoms that show up in the mouth. If your dentist notices something unusual, further testing may be recommended. Dentists also regularly screen for diseases specific to the mouth — such as oral cancer, which has a much better chance of being cured when it is caught at an early stage.
But beyond checking for particular diseases, dentists often notice other things that may indicate a health issue. For example, if you complain of dry mouth or snoring, and appear fatigued in the dental chair, your dentist may suspect undiagnosed sleep apnea: a potentially serious condition. Many other signs — such as yellowed eyes, a pounding heart rate, or shortness of breath — can indicate potential problems.
Of course, we're not even mentioning the main reason for regular dental checkups — keeping your smile healthy and bright; for many people that's reason enough. How does Journee's mom feel about keeping dental appointments? "I will never miss another dentist appointment," she told reporters. "I will never reschedule."
If you would like more information about routine dental checkups, please contact us or schedule an appointment. You can learn more by reading the Dear Doctor magazine articles "The Dental Hygiene Visit" and "Good Oral Health Leads to Better Health Overall."