Posts for: November, 2014
By Uxbridge Dental Center
November 26, 2014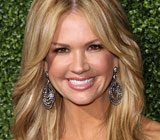 When her daughter Ashby was born in 2007, Nancy O'Dell was overjoyed; but she found the experience of pregnancy to be anxiety-provoking. O'Dell is host of the popular entertainment news show Entertainment Tonight.
After her baby was born she compiled her memories and thoughts into a book for first-time pregnant mothers. The book, "Full of Life: Mom to Mom Tips I Wish Someone Had Told Me When I Was Pregnant," covers a wide range of topics — including oral health during pregnancy.
"While my dental health has always been relatively normal, pregnancy did cause me some concern about my teeth and gums. With my dentist's advice and treatment, the few problems I had were minimized," O'Dell told Dear Doctor magazine. An example of her experience is a craving for milk that started at about the time the baby's teeth began to form. She felt that her body was telling her to consume more calcium.
As often happens with pregnant mothers, she developed sensitive gums and was diagnosed with "pregnancy gingivitis," the result of hormonal changes that increase blood flow to the gums.
"I love to smile," said O'Dell, "and smiles are so important to set people at ease, like when you walk into a room of people you don't know. When you genuinely smile you're able to dissolve that natural wall that exists between strangers."
Contact us today to schedule an appointment to discuss your questions about dental health during pregnancy. You can also learn more by reading the Dear Doctor magazine article "Nancy O'Dell."
By Uxbridge Dental Center
November 11, 2014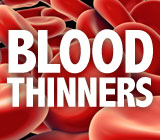 The proliferation of drugs to treat all manner of diseases and conditions has heightened concerns not only about general side effects, but also how a particular drug may affect treatments for other conditions. There are indications, for example, that drugs classified as blood thinners could cause complications for patients undergoing oral surgery.
Blood thinners like Warfarin are typically prescribed to patients with artificial heart valves or who are at significant risk for stroke, heart attack, or the formation of clots that could potentially damage the heart and lungs. The drug reduces the coagulation (clotting) mechanism in blood; aspirin taken regularly should also be considered a blood thinner.
As with any invasive procedure, blood thinners can complicate oral surgery. Blood doesn't clot normally and so bleeding during a procedure is more difficult to stop. This doesn't necessarily mean the surgery can't be performed. For one thing, many oral procedures like tooth removal involve little trauma to tissues and bleeding in the hands of a careful and experienced surgeon. The surgeon can also use hemostatic agents during surgery that will stabilize blood clotting, as well as suturing the incision in such a way as to reduce bleeding from surface capillaries. In the case of a tooth extraction, a material placed within the empty socket not only reduces bone loss from a missing tooth, but can also enhance bleeding control.
In consultation with your medical doctor, it's also possible to temporarily stop or reduce your medication dosage in anticipation of a pending oral surgery. While it may not be safe to stop the drug altogether, a reduced dosage can ease the anti-coagulant effect and reduce any complications from bleeding that might occur during the surgery. You can then resume normal dosage soon after the procedure.
During your pre-op examination, it's important to let your surgeon know about any drugs you are currently taking, including over-the-counter drugs like aspirin. The oral surgeon will then be able to take the necessary steps, including working with your medical doctor, to ensure your surgical procedure is safe and uneventful.
If you would like more information on oral surgery precautions while taking blood thinners and other medication, please contact us or schedule an appointment for a consultation. You can also learn more about this topic by reading the Dear Doctor magazine article "Oral Surgery & Blood Thinners."