Posts for: September, 2014
By Uxbridge Dental Center
September 23, 2014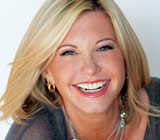 Olivia Newton-John, now in her early 60's, is still a fresh-faced picture of health — with a radiant smile to match. How does she do it? She does it with healthy habits learned from her German-born mother, Irene.
"I love greens, and as many organic vegetables as possible," Olivia recently told Dear Doctor magazine. "From spinach to salads to beets — pretty much any and all greens!"
Olivia credits her mom with instilling her lifelong love of healthy foods. Irene used dark bread rather than white bread for sandwiches and even made her own yogurt — which she used as a topping on baked fruit for dessert.
"Growing up, my mum really taught us some great eating habits," Olivia told the magazine. "When I was a girl in school, all of my friends would have cakes and cookies and fun foods but my mum was all about teaching us to eat healthy foods and to be very aware of what we were putting into our bodies. At the time I was annoyed about it, but looking back now I thank her for teaching me at an early age to eat healthily."
Irene paid particular attention to her children's oral health. "My mum always made us brush and floss after every meal so, once again, like the foods we ate, she taught us early about the importance of great dental hygiene," said Olivia, who has an older brother and sister.
As a mom herself, Olivia passed those healthy habits down to her daughter, Chloe.
"I always insisted on regular dental checkups and limited sugar, especially in soft drinks — they were never in our fridge," she said.
Parents do play an important role in developing healthy oral habits from the very beginning, starting with proper tooth-brushing techniques. By age 2, a brushing routine should be established using a smear of fluoride toothpaste. For older toddlers, parents can use a child's size soft toothbrush with water and a pea-sized amount of fluoride toothpaste. Children need help brushing until at least age 6, when they can generally take over brushing by themselves and also learn to floss.
The point of a good daily oral hygiene routine is to remove the film of bacteria that collects daily along the gum line, and in the nooks and crannies of teeth. Effective daily removal of this biofilm will do more to prevent tooth decay and promote lifelong dental health than anything else.
If you would like to learn more about preventing tooth decay or teaching your child to brush and floss correctly, please contact us or schedule an appointment for a consultation. If you would like to read Dear Doctor's entire interview with Olivia Newton-John, please see "Olivia Newton-John." Dear Doctor also has more on "How to Help Your Child Develop the Best Habits for Oral Health."
By Uxbridge Dental Center
September 08, 2014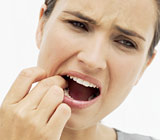 We now have amazing therapies to replace lost teeth with life-like replicas that look and perform like real teeth. But for oral health in general it's still better to save a natural tooth if we can.
That's the main purpose of a root canal treatment — to rescue a tooth whose pulp (an area of tissue and nerve bundles inside the tooth) has died from trauma or ravaged by a bacterial infection that continues to progress up into the bone via the root canals. By accessing the pulp through a small opening in the top of the tooth we remove the dead and infected pulp tissue, thoroughly disinfect the empty pulp chamber and root canals, and then fill them with a special filling. We then seal the opening (and later install a permanent crown) to prevent future fracture of the tooth and re-infection.
So, how can you know your tooth is in danger? Your first indication may be an intense tooth pain that comes on quickly. This pain is emanating from the nerves in the pulp as the tissue begins to die. Once the nerves have died, they will no longer transmit pain signals: hence the pain will subside rather quickly in about two or three days.
So it is important to understand that the absence of pain doesn't mean the infection has subsided — quite the contrary, it's still present and active, making its way along the root canals of the tooth. At this point you may begin to notice a secondary pain when you bite down on the tooth. This is originating from other nerves located around the periodontal ligament (the main tissue that helps hold teeth in place with the bone) as the tissues become inflamed from the infection. You may also develop an abscess, an area in the gum tissue where infectious pus may collect. Depending on its location, the abscess can be acutely painful or "silent," meaning you may not feel any pain at all. The infection is still there, though, and the tooth is still in danger.
If you encounter any of the pain symptoms just described, you should visit us for an examination as soon as possible. If the cause indicates the need for a root canal treatment time is of the essence — the longer we delay, the greater the risk of ultimate tooth loss.
If you would like more information on root canal treatments, please contact us or schedule an appointment for a consultation. You can also learn more about this topic by reading the Dear Doctor magazine article "Signs and Symptoms of a Future Root Canal."