Posts for: April, 2014
By Uxbridge Dental Center
April 17, 2014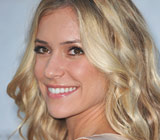 Kristin Cavallari's flawless smile has been featured on TV, film and magazine covers. But the 25-year-old actress and reality-show personality didn't always have a perfect set of teeth. In fact, she told Dear Doctor magazine — where readers recently voted to crown her with the "Smile of the Year" award — that her dental treatments began the same way many do: with orthodontics in sixth grade.
"I had the 'spaghetti catcher,' which is what everyone used to call it," she reminisced. But by that, she didn't mean a strainer — she's talking about what dentists call a "palatal expander."
In case you're not familiar with this orthodontic device, a palatal expander takes advantage of the natural growth patterns of a child's upper jaw to create additional space for the top set of teeth. How does it work? Basically, it's similar to braces: By applying gentle pressure, the appliance creates changes in the jaw. Unlike braces, however, it's invisible — it fits between the upper teeth, close to the roof of the mouth.
During the three to six months a child wears the palatal expander, it pushes the left and right halves of the upper jawbone apart, and then maintains and stabilizes the new, wider spacing. Since the palatal bones don't fuse until after puberty, tightening it a little bit each day for the first few weeks provides a quick and painless method of making the upper jaw a bit roomier. And that can be a very good thing. Why?
There are lots of reasons. For one, it can relieve the condition called "crowding," when there is not enough space in the upper jaw to accommodate the proper alignment of the permanent teeth. In the past, teeth often had to be extracted in that situation. It may even allow "impacted" teeth — ones which are blocked from erupting by other teeth — to come in normally.
It can help treat a "crossbite," when the back top teeth come down to bite inside (instead of outside) the lower back teeth. It also generally shortens the total time a child needs for orthodontic treatment. That's good news for any teenager — even if their own day-to-day "reality show" isn't featured on TV!
If you would like more information about palatal expanders, please contact us or schedule an appointment for a consultation. You can also learn more by reading the Dear Doctor magazine article "Palatal Expanders" and "Early Orthodontic Evaluation."
By Uxbridge Dental Center
April 02, 2014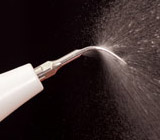 While you may most associate professional dental cleanings with that "squeaky" clean feeling you have afterward, there is a much higher goal. What is also referred to as "non-surgical periodontal therapy," these cleanings seek to remove bacterial plaque and tartar (hard deposits) not only from the visible portions of the tooth but also the root surfaces (scaling), so as to reduce the risk and occurrence of periodontal gum disease.
For generations, this was primarily achieved by dental hygienists using hand-held instruments specially designed to manually remove plaque from tooth surfaces. Since the 1950s, though, a new technology known as ultrasonic or power scaling has become more prevalent in use. Initially only used in the outer most portions of the gum tissue (the supra-gingival area) power scaling is increasingly employed to clean the sub-gingival area, much closer to the tooth roots. As this technology has developed, it's been shown to be just as effective, if not superior in some cases, to manual scaling for removing plaque and tartar.
Ultrasonic or power scalers work by emitting high vibration energy that crushes and removes plaque and calculus (tartar). The resulting shockwaves also tend to disrupt bacterial cell function. The hygienist uses water to flush away the dislodged calculus. They have a number of advantages over manual scaling: they're quite effective on deep gum pockets, especially when specially designed tips are used; they require less time than manual scaling; and when used correctly power scalers are gentler to tooth structures.
However, they do have a few drawbacks. Because they produce an aerosol effect, power scalers can project contaminants from the patient's mouth into the atmosphere, requiring special protective equipment for the hygienist. They're not recommended for patients with hypersensitive teeth, especially regarding temperature change, or for teeth with areas of de-mineralization (the loss of mineral content in the enamel). Care should be taken when they're used with implants or porcelain or composite crowns — specially designed tips are necessary to avoid scratching the restoration. They may also have an effect on cardiac pacemakers.
In the end, the best approach is a combination of both power and manual scaling techniques. Depending on your individual needs, ultrasonic scaling can do an effective job in removing plaque and tartar and help you avoid gum disease.
If you would like more information on ultrasonic cleaning techniques, please contact us or schedule an appointment for a consultation. You can also learn more about this topic by reading the Dear Doctor magazine article "Dental Cleanings Using Ultrasonic Scalers."