Posts for: December, 2013
By Uxbridge Dental Center
December 16, 2013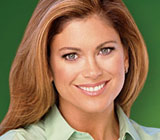 You may have seen Kathy Ireland on the cover of Sports Illustrated, but did you know that she is now a business mogul?
Through it all, Ireland has kept her model good looks, and that includes a bright, glowing smile. In a recent interview with Dear Doctor magazine she said that keeping her smile has required ongoing maintenance and more.
It seems that Ireland is a bit of a daredevil. She described a moment of fun with her children when she tried to stand in their wagon and "wagon surf" across her driveway. It ended badly when she crashed into her parked car and suffered a broken nose, split forehead and several broken teeth. "I learned that my love of adventure exceeds my coordination," she commented.
Ireland was born in Glendale, California in 1963. She demonstrated her drive to succeed early in life, starting at age 4 when she and her sister sold painted rocks from their wagon. Later she had a paper route. She began modeling at 17, with the goal of earning enough to pay for college or to start a business. In her successful modeling career she graced the covers of Glamour, Cosmopolitan, Harper's Bazaar and Sports Illustrated. Her first cover for Sports Illustrated, the publication's 25th Anniversary Swimsuit Edition, was the magazine's best-selling swimsuit issue to date.
In 1993 she founded her marketing and design firm, kathy ireland Worldwide. Now a billion-dollar industry, the firm sells fashions such as wedding gowns and bridesmaid dresses, as well as a wide range of items for home and family.
She has also written a number of books teaching others how to be successful — based on her own experience — as well as three children's books.
Discussing her oral health, Ireland says that she required serious professional assistance on more than one occasion. When she was a child she knocked out a tooth and later knocked it loose again. As an adolescent she wore braces for about three years. After the driveway incident she needed numerous veneers and dental implants to replace a lost tooth and restore her smile.
Her maintenance routine includes regular flossing and brushing, and she has her teeth cleaned every six months. She keeps up on her reading about the latest in research on dental health, and encourages her three children to floss and brush their teeth, to limit eating sweets and to do what they can to avoid injuries to their mouths and teeth.
Contact us today to schedule an appointment to discuss your questions about how to maintain your own smile. You can also learn more by reading the Dear Doctor magazine article "Kathy Ireland."
By Uxbridge Dental Center
December 06, 2013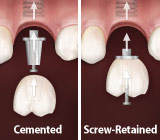 Dental implants have come a long way since their introduction thirty years ago. Unlike their predecessors, today's implants come in various shapes and sizes that can meet the precise needs of individual patients. Crown attachment has also developed some variety.
The actual implant is a titanium post surgically imbedded in the jawbone to replace the original tooth root. The restoration crown, the visible part of the implant system that resembles natural tooth, is affixed to the implant post. There are two basic methods to attach the crown: cement it to an abutment that has been installed in the implant; or screw it into the implant with a retaining screw from the underside of the crown. In the latter case, the abutment has been built into the crown.
While either method provides years of effective service, one method may work better than the other depending on the circumstance. Screw-retained crowns require no cement and are more easily removed than cemented crowns if it becomes necessary. On the other hand, the screw access hole can be visible, although the area can be filled with a tooth-colored filling; and although rare, chips near the access hole can occur. Occasionally the screw may become loose, but tightening or replacing the retaining screw is a simple matter because of the access hole.
A cemented crown looks more like a natural tooth and so is more useful in situations where cosmetics are a factor. The cement, however, can cause inflammation and contribute to bone loss in some patients when excess cement gets below the gums. Unlike a screw-retained crown, removal is more difficult and limited.
As a rule, screw-retained crowns are normally used in areas where the screw hole is not conspicuous, such as for posterior (back) teeth. They're also more desirable than cemented when the implant is permanently crowned at the same time it's surgically implanted, a process called "immediate loading."
Which method of crown attachment is best for you? That depends on the implant location and other factors we would explore during a thorough pre-implant exam. Either way, the end result will be a life-like replica of your natural teeth, and a restored, vibrant smile.
If you would like more information on crown attachment to dental implants, please contact us or schedule an appointment for a consultation. You can also learn more about this topic by reading the Dear Doctor magazine article "How Crowns Attach to Implants."